What is the delay to have my photos?
---
The delay is around 1 weeks. However I always email you a short selection (20 photos) the same day, to share them with your friends and family.
---
Are the photos edited?
---
Yes, I make adjustments (light, contrast, colors, cropping…) but I don't make any physical changes. I will provide you a mix of colored and black & white photos.
---
How can I get my photos?
---
I will send you an email with a link to my website where you will be able to access your personal photo gallery. You will just need to enter your personal ID then you will be able to download all your photos in HD with no trademark.You will then be able to print any photo you like!
---
What happens if the weather is bad?
---
It can actually be a great opportunity to get some distinctive shots. It usually doesn't rain for long. And it allows creative and amazing pictures; with many natural effects (puddles create natural mirrors allowing reflection on the floor; rain effects (rain enhances colours after it stops and the sun comes out)...). To see some examples, have a look at my Best of Rain session! If the weather really is too bad, I will always suggest rescheduling the session.
---
How do we move from one spot to another?
---
No need to pay for a taxi, I will be your own driver! I have a Citroën Picasso.
---
Is transportation time included in the session?
---
No it's not included. So relax!
---
How can we pay?
---
You can pay by credit card at the end of the session (I have a credit card reader), and you will receive your receipt immediately by email. Accepted cards: Visa, VPay, MasterCard, Maestro and American Express
---
Would you advise us some spots?
---
Yes, with much pleasure! According to the duration I may propose different tours to you. For example for a 2-hour session: Eiffel tower, Bir-Hakeim bridge, Louvre Museum, and Palais Royal garden.
---
Can I change clothes during the session?
---
Yes, it is possible in a café or in my car. Nevertheless it may be difficult if you intend to change clothes more than once. For a night & day session you could easily have 2 different dress codes.
---
Could you recommend me a hair / make-up stylist? A dress rent store?
---
Yes of course, I could provide you some professional contacts like : -A talended hair/make-up artist. I can also provide some professional contact for special requests, such as for exemple: - A personal cruise on the Seine river on an authentic Riva boat (perfect for an unforgettable proposal :-) - Fresh Champagne - XXL balloons for baby announcement session
---
What kind of camera do you have?
---
I work with 1 Canon 5D Mark IV and 1 Canon 5D Mark III, with several lenses L series only (16-35mm f/2.8L, 24-70mm f/2.8L II, 70-200mm f/2.8L, 85mm f/1.4L, 35mm f/1.2L). My camera provides a 30Mp files. So it is possible to print a very large poster from your session.
---
A deposit could be refounded?
---
In case of cancellation, the deposit is available during 5 year. The deposit could be refounded only in case a bad weather.
---
What is the best moment for a photo session?
---
It's better to start early in the morning for 2 reasons: - Some of locations are crowded (specialy the Trocadero in front of the Eiffel tower) - The light is better at the sunrise. However it's possible to have a photo session later. In this case I will be pleased to recommande you the best locations. For the night photo session I prefer to start 45mn before the sunset. This moment is named the blue hour, when the city is lighting with a deep blue sky.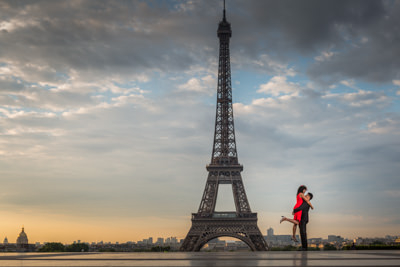 ---
Will my photos be published?
---
Not always, but by doing a photo session you accept that your photos may be used on my social network such as Facebook or Instagram.
Being a photographer it is very important / vital for me to be able to show future clients the evolution of my work by building a portfolio for display; these sites are my shop window.
However, if you are opposed to the publication of your photos, please be informed that you will be charged an additional fee for non-usage of 200€.
---
---